Manufacturers of Audio, Visual and Data Products
Quick Links
We manufacture HDMI, RCA, SVGA and various other wall outlets, connectors and accessories for use in Audio, Visual and Data applications. These products are used in professional, commercial and domestic environments. We research and design in the UK and have a production facility in the East of England with a moulding shop and assembly plant.
As a company, we take care finding out about current and future trends in Audio Visual technology so that we can supply products that integrate fully with today's applications. Some applications require unique designs and low volume production. Our inhouse designers work with customers to create the right solution. For example, we specially design and manufacture outlets for the interactive white boards now installed throughout the UK.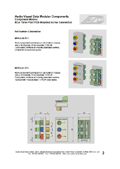 br>
New Full Site Coming Soon
This site is under development and product information will be added shortly. For the time being please contact us for more information. We can send you product information by email, fax or post.
Tel: 01502 562436